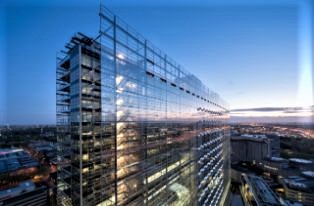 The Council on Tall Buildings and Urban Habitat celebrated a crop of new buildings and urban developments around the world at its 17th Annual CTBUH Awards Program in Shenzhen. The CTBUH Awards Jury has now announced the winners across 20 award categories, including the top-billed "Best Tall Building Worldwide" distinction, which was given to San Francisco's Salesforce Tower.
Best Tall Building Jury Chair Karl Fender, Founding Partner of Fender Katsalidis Architects, described the Salesforce Tower as a "building that gives back." The supertall structure's heightened focus on occupant health, sustainability, structural efficiency, and overall integration with the surrounding urban environment earned points with the jury. The building stands within a mixed-use, transit-oriented neighbourhood on a site formerly occupied by a dated transit centre.
Category winners were selected from a group of 65 Award of Excellence Winners representing 20 countries and 33 cities around the world. The list of winners is highlighted below. A complete list of winners, including Award of Excellence winners, can be found here.