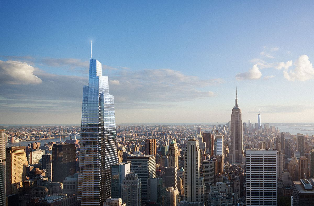 When it comes to new developments in New York City, the supertall tower is still king: many of the city's most high-profile developments, from One World Trade Center to Central Park Tower, all exceed the 984-foot limit that takes a building from merely tall to supertall. (Alas, architects here have yet to design a building that would rocket into the megatall—above 1,968 feet—category.)
These soaring towers aren't always popular—many have actively fought against the buildings sprouting along 57th Street and Central Park South, worried that they'll cause shadowing over the storied park—but it's hard to argue against their status as marvels of engineering.
But how many of these buildings does New York City have? We counted, and the number as of right now is 27; that includes buildings that are either completed, under construction, or in the proposal or development (or just plain rumor) phases. They're all mapped below—and if you know of something new, hit the tipline.