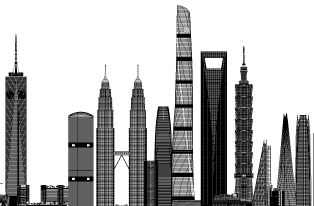 The skyscraper has a history extending back more than 120 years, but it entered a new phase of innovation and acceleration in the late 1960s.
The Council on Tall Buildings and Urban Habitat was founded in 1969 to embrace and interpret the rapid changes taking place in the field of high-rise design and engineering. Throughout its history, CTBUH has highlighted best practice examples of tall buildings that represented a significant change in thinking or technique, by means of Journal case studies, conference proceedings, and since 2002, the annual Awards program.
The tall buildings captured here are selected on the same criteria, through the combined input of the CTBUH Research and Data team, CTBUH Leaders, and a call to the member constituency at large. Each represents a milestone in the development of the typology, tracking the development of the tall building from a predominantly commercial office tower with repetitive floor plates, to a "vertical city" with the mix of uses, variation in façade materials, and variety of interior and exterior spaces implied by the title. Across these examples, we see the arrival and departure of the distinct International and Post-Modern styles, as well as the overlapping parametricism and contextualism that dominates the contemporary scene. We see the transition from symbols of North American corporate power to broadcasting devices for the arrival of entire cities and countries on the global stage. The importance of environmental sustainability takes on as important a role as cultural and economic longevity. And, as some of these skyscrapers hit the half-century mark, we see them aging gracefully, into new functions, sometimes radically changing appearance and even height. From this, we learn that the development of the skyscraper typology is not a simple case of linear hand-offs from one generation to the next; rather, it is an interpolating dialogue that will continue to inform and inspire us for the next 50 years and beyond.