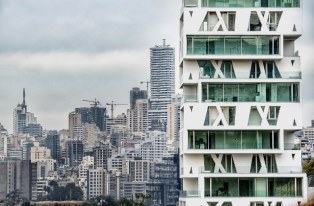 De Council on Tall Buildings and Urban Habitat (CTBUH) heeft het gebouw The Cube in Beirut van Orange Architects uitgeroepen tot beste hoogbouwproject van het Midden-Oosten en Afrika.
Het gebouw bestaat uit veertien gestapelde volumes, waarin eenentwintig woningen zijn ondergebracht. De jury waardeert deze keuze, evenals de constructieve opzet met een systeem van elegant ontworpen wandliggers die het vijftig meter hoge gebouw 'visuele flair' geven en ervoor zorgen dat de vloeren kolomvrij gehouden konden worden.
Naast The Cube zijn nog drie hoogbouwprojecten bekroond met een CTBUH 2016 Tall Building Award. Het gaat om VIA West 57 in New York van architectenbureau BIG (Amerika's), de Shanghai Tower van bureau Gensler (Azië en Australië) en The With Walls van Ateliers Jean Nouvel in de Cypriotische stad Nicosia (Europa).
Op 3 november 2016 wordt uit de vier regiowinnaars een algeheel winnaar van de CTBUH 2016 Tall Building Award aangewezen. Dat gebeurt tijdens een uitreikingsceremonie in Chicago.